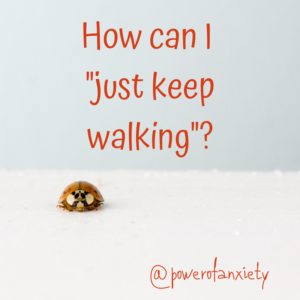 We hear a lot of motivational quotes that tell us to just keep walking, which is great advice! Some great ones are "keep walking through the storm" or "keep walking, great things are ahead"
These have always inspired me. I always saw them and thought, somewhere in the future, things will get better. However, recently I have started to walk outdoors in the woods, and it took on a whole other meaning for me.
Until recently, I believed that I was not ready to start walking outdoors. I wasn't fit enough. What if I had an anxiety or panic attack? I was too anxious. So, I had to start with the emotional part of "keep walking" to get to the physical.
The psychologist said, "you have to reach the peak of your anxiety, your panic, where it feels like you are going to die, and then realise that you didn't die"
It was the best advice.
I had to start going places and feeling the anxiety that I had been avoiding.
In the beginning, to manage to do this, I had to know where I was going, for how long, and also the escape plan – If something happened, or I became overwhelmed, someone knew where I was and could come and collect me. It was terrifying at the start, but like my psychologist said, I did realise that I was not going to die, even though I felt like it. It gave me the power to realise that even if I had an attack, it would be ok.
When I felt comfortable, I started to go for walks in nature, alone! It is not always easy, I still get panic attacks, but what I started to realise is that as I was, things start to get moving. I felt calmer, and had a LOT more energy. More importantly, I wanted to do so many things, I had a new love for life. (Could my anxiety be getting better???)
To manage my anxiety, I turned off my phone. I took it just in case, but it was off. I got myself Fitbit Versa 2 Health & Fitness Smartwatch with Voice Control, Sleep Score & Music, Bordeaux, with Alexa built-in
It is amazing and monitors everything, letting me focus on the nature, and my music of course!
So when we hear just keep walking, it does meaning keep going as things will get better. For anxiety though, just by walking, we can not only keep going but also feel better in the present, and not have to wait til the future. Try it when you feel ready.
Love, @powerofanxiety